July 23, 2012 - Profound Logic Software has released a new case study with Wheeling & Lake Erie Railway. (www.wlerwy.com)
Wheeling & Lake Erie Railway (W&LE) is a long-time IBM i customer, who realized that their outdated 5250 green screens were holding them back. These applications created bottlenecks for customers who needed to submit orders, as well as productivity losses with W&LE employees. "Some customers did utilize an EDI solution, but the process of inputting data was still very manual and tedious," says Marc Masters, IT Director at W&LE. "One wrong keystroke could cause significant problems with the order."
To solve this problem, W&LE turned to Profound Logic Software. The railway used the Profound UI toolset to create a self-service portal where customers can place their own orders, thus removing bottlenecks caused by the former manual processes. "We wanted to streamline the ways in which our customers could place orders and offer feedback," says Masters. "Now our customers can send us their orders directly from our Website, which eliminates the time, effort and potential errors that would occur with our old methods."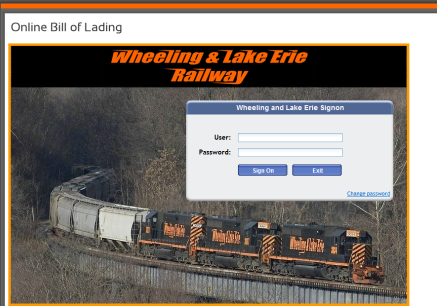 W&LE's online self-service portal speeds the placement of orders and increases customer satisfaction
Learn more about how the W&LE team easily created these dynamic Web applications with Profound UI: read the full case study.
For more information about this study or Profound UI, please contact:
Profound Logic Software, Inc.
562 Congress Park Drive
Dayton, OH 45459
(937) 439-7925 phone
(877) 224-7768 toll free
sales@profoundlogic.com

About Profound Logic Software, Inc.
Profound Logic Software, an advanced IBM business partner, provides best-of-breed solutions to support the development and modernization of applications on IBM i. Over the last 10 years they have facilitated the modernization of many million lines of RPG code for thousands of customers, including Nintendo, Pepsi and General Electric. They continue to innovate today with products such as Genie, RPGsp, Atrium, iData, RPG-Alive and Profound UI. Visit www.profoundlogic.com to learn more.
W&LE is the largest railroad based in Ohio and among the largest regional railroads in the Country. Our service area, concentrated in eastern Ohio and western Pennsylvania, includes 840 miles of track running from Toledo, Ohio to Hagerstown, Maryland. The safety of our employees and the communities we serve is a top priority at the Wheeling & Lake Erie Railway Company. Making safety our top priority plays an important role in our ability to continuously provide our customers with safe and reliable service. Learn more at www.wlerwy.com.