May 10, 2006
- Profound Logic today announces the Launch of The Screening Pros; a southern California applicant screening company which has built its entire business on Profound Logic's RPG Smart Pages (RPGsp) technology.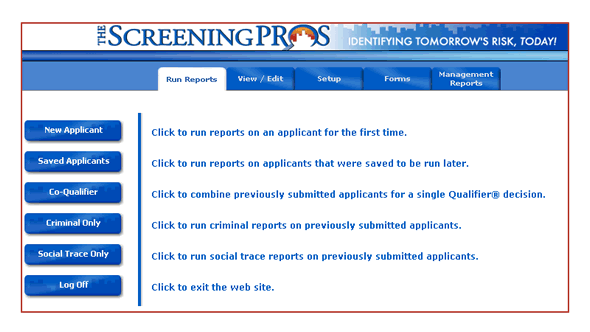 The Screening Pros run their entire business on RPGsp software, which allows them to provide the most comprehensive applicant screening system in the industry. The heart of the business is a custom RPGsp application that allows The Screening Pros operators, end-users and resellers to access consumer information for making rental and employment decisions. This RPGsp application is a very modern 100% browser-based system that consists of hundreds of graphical screens, programs, and database files.
Members of The Screening pros have a number of decision making services at their fingertips to aid in making sound rental and employment decisions. Users can sign on to the system and instantly run reports from the major credit bureaus, check their applicant against a national database of eviction records, request criminal reports and much more. The system maintains various levels of user management levels offering flexibility to the member for controlling various management functions within the application.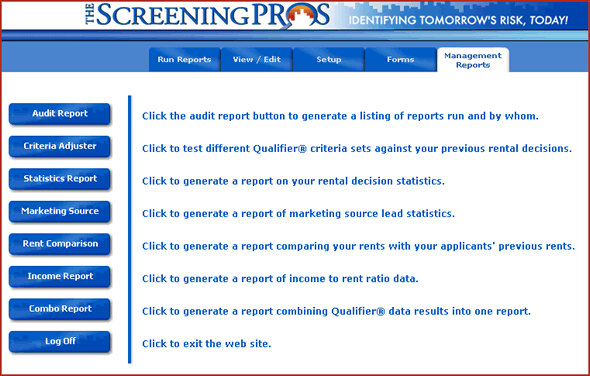 For a completely objective rental decision, The Screening Prosí customizable decision making tool called The Qualifier will analyze a wide range of consumer data points such as, applicants without credit trade lines or social security numbers, specific tolerance levels for public records, discharged bankruptcies, medical and or educational collections, general credit delinquencies, earnings to rent ratios, eviction and landlord records, check writing data, FICO scores and much , much more.
The system also keeps track of various statistics, and provides a number of reports that allow management companies to analyze everything from rent to income ratios to the effectiveness of their marketing campaigns.
The application is completely brand-able, allowing resellers of Screening Pros services to provide the same system with their own colors, logos, and messages.
For The Screening Pros, the system provides a complete graphical Accounts Receivables package to record transactions, and automatic account statement generation. The AR package includes applications for receiving and posting customer payments, and even features an online payment system.
Both the web application and back-end logic are written completely in i5/OS native ILE RPG, using Profound Logic's RPG Smart Pages (RGPsp) development environment. While software written in RPG is commonly associated with green-screens, The Screening Pros business does not employ a single green-screen application. The custom software uses RPG Smart Pages (RPGsp) technology to deliver state-of-the-art web interfaces across the board. This gives The Screening Pros the rock-solid reliability long associated with the iSeries while at the same time providing the latest graphical goodies and a level of user-friendliness not commonly associated with iSeries applications.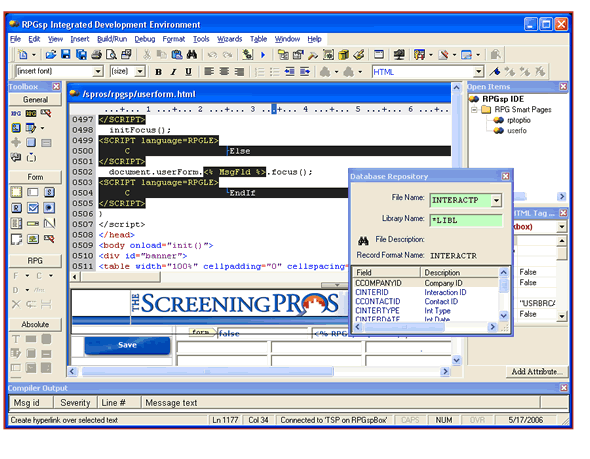 For information on The Screening Pros, visit their web site at: www.thescreeningpros.com.
A fully functional trial of RPG Smart Pages (RPGsp) can be downloaded at: http://www.rpgsp.com/download.html .
For more information, contact:
Profound Logic Software, Inc.
370 Sentinel Oak Drive, Suite 200
Dayton, OH 45458
(937) 439-7925 phone
(877) 224-7768 toll free
sales@profoundlogic.com
About Profound Logic Software, Inc.
Profound Logic Software is a leading provider of application development tools for the iSeries (AS/400) platform. Established in 1999, Profound Logic started creating innovative programming tools that streamline the application development process. Profound Logic has also focused on providing excellent customer service to its clients. Today, Profound Logic Software enjoys thousands of software users in more than 50 different countries. Profound Logic offers its software along with related training, consulting, and support services.
About RPG Smart Pages (RPGsp)
RPGsp ( http://www.RPGsp.com ) is the first Rapid Web Development Environment based on native ILE RPG. By integrating RPG business logic in an HTML interface, an RPG developer can produce powerful business applications faster than ever before. RPGsp is analogous to web technologies such as ASP or JSP, apart from the fact that all host logic is written exclusively in RPG, the most natural and efficient language for accessing data on the iSeries. Designed specifically for RPG developers, RPGsp is the perfect tool for creating graphical intranet-based iSeries Applications or for deploying Web Applications.