Dayton, OH - October 30, 2013 - Profound Logic Software, a leader in IBM i application modernization and development software, announces the release of Profound UI 4.7. Version 4.7 of Profound Logic's IBM i modernization framework includes many exciting new features that help companies extend the reach of their applications to international users and improve overall ease-of-use for developers.
The key features and enhancements in Profound UI version 4.7 include:
The ability to populate constant application text from a translation database to support multi-language applications
The translation of built-in constant strings and error messages into a variety of languages, with the ability for customers to add translations as needed
A utility to convert constant strings in existing displays to load from the translation database
An advanced HTML/CSS/JavaScript code editor in the Genie Administrator
Expand the Reach of IBM i Applications with Multi-language Support
A major focus of Profound UI 4.7 is the support of businesses that develop applications on the IBM i for an international user base. "We work with companies that have offices throughout the world, and some who create and distribute software to a global market," explains Alex Roytman, Profound Logic's CEO. "We developed features for Profound UI 4.7 with these customers in mind, and provide tools that make building applications in multiple languages easier than ever by eliminating manual processes and duplicate efforts."
A key feature of version 4.7 is a translation database that eliminates the need to hard code text translations within the application. Developers can now click a button to open a phrase-search dialog and locate a phrase ID for the desired languages. The application will then display with the selected phrase in multiple languages. Profound UI developers can contribute to the database by adding phrases in their desired language.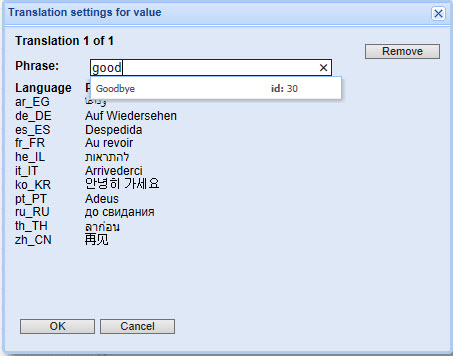 Developers can now open a phrase-search dialog and locate a Phrase ID for their desired language
Developers can also run a command on the IBM i system that points to display file source to locate the hard-coded text in the application, and replace the text in that string with a reference to the phrase ID in the translation database. This gives them a jump-start on translating their applications by removing the manual work of re-coding the strings in the source code to work with the translation database, and makes it easier to identify text that needs to be translated.
Additionally, there are particular strings hard-coded into the Profound UI product itself, such as instructions, error codes, validation messages and widget text. Now Profound UI has built-in translations for many popular languages, including French, German, Spanish, Italian and Hebrew. Profound UI developers can also add their own translation file to Profound UI if their language is not supported, or can re-phrase the wording in a translation for accuracy.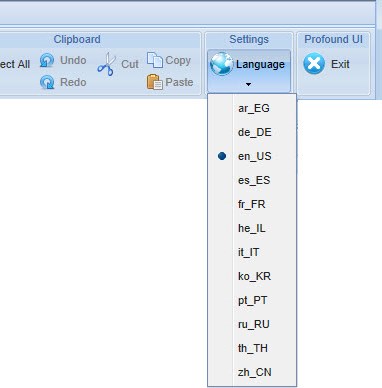 The Language Settings selector within Profound UI
Code Editing at Your Fingertips
An additional feature of Profound UI 4.7 is an Advanced Code Editor within the Genie Administrator. This tool significantly streamlines the process of finding, editing and validating HTML, CSS and JavaScript code for applications by enabling developers to access this code directly within the Genie Administrator's browser-based interface.
"Traditionally, it hasn't been easy for developers to locate the HTML, CSS and JavaScript code for their applications within their IBM i system," says Roytman. "And once they did locate these files, they would often need to download and learn how to use an editing tool to make changes. Profound UI 4.7 greatly simplifies things by offering a built-in code editor to view, edit and validate the syntax of their code."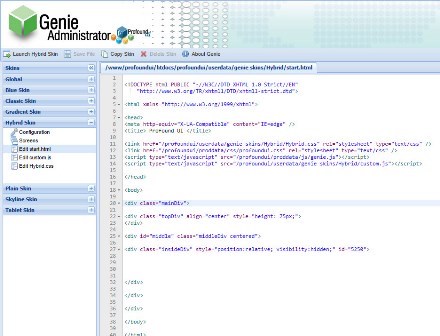 The Advanced Code Editor in Genie makes it easy to view, edit and validate web languages
(click to enlarge)
Persistent Grid Layout Changes
Profound UI enables developers to configure a grid so that the end user can sort the records, resize the columns, and even drag/drop the columns into a new sequence, all by simply turning on a grid's 'sortable columns', 'resizable columns', and 'movable columns' properties.
Previously, there was no way to persist the user's changes, so when a user returned to their screen, the record sort, column size, and column sequence would be set back to the original configuration. Profound UI now makes it possible to configure a grid to save the user's changes to the browser's 'local storage' area. This storage will live forever, or until the user clears it using the browser's 'clear browsing data' function. To activate persistent changes, application developers can simply turn on the grid's new 'persist state' property.
Profound UI 4.7 Trial Available
IBM i customers can learn more about the Profound UI 4.7 release and download a 30-day trial at www.profoundlogic.com. For a complete list of features and enhancements in this release, visit http://www.profoundlogic.com/docs/display/PUI/What%27s+New.