April 28, 2009 - Profound Logic Software announces today the upcoming release of an enterprise portal for the IBM i, which focuses on securely tying multiple applications together into one intuitive browser interface. The enterprise portal, called Atrium, is the newest addition to the company's popular modernization suite of products.
With Atrium, businesses can finally eliminate complicated green-screen menus that require users to drill-down through various levels of options to access particular applications. These legacy menus will instead be replaced with various, easy-to-use navigation menus that companies can select from. Choices for this integrated menu include drop-down trees, accordion panels, toolbars, and pull-down menus. Administrators can tailor these menus for individual users or groups. Atrium users can be tied directly to AS/400 user id's or configured as stand-alone users.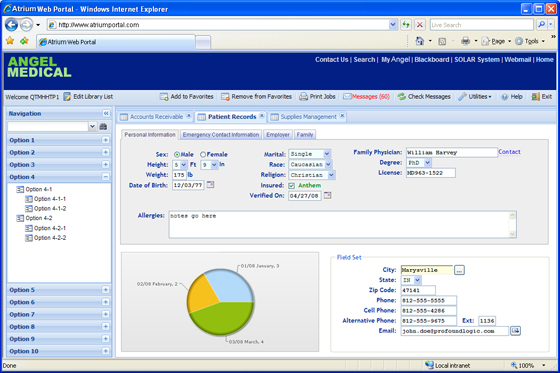 Once the improved navigation is implemented, users will be able to effortlessly launch and access their applications securely within a tabbed layout. This layout saves time for users by allowing them to launch multiple applications simultaneously without having to start a new session or back out of applications that have previously been opened.
Atrium helps complete the Profound Logic modernization suite by providing users with a seamless way to integrate all of their RPGsp Web applications, Genie enhanced screens, and iData database views into one location with a single sign-on. Users can also easily integrate other 3rd party applications, websites, and data, whether these are located on the i or other various platforms.

Profound Logic's reason for creating this new enterprise portal is in an effort to help clients develop a strong framework that improves both accessibility and usability of their system, while insuring the security of the core applications. "Atrium was based on the business needs and requests of our clients. We worked with several customers, who demonstrated a need to redesign the way their end-users navigate between application screens" explained David Russo, the Atrium Product Development Team Lead. "It was also important to our clients that they had more control over user access to the individual applications once they were running on the Web."
Atrium is scheduled to release late in the third quarter, but Profound Logic is issuing a call for businesses who are interested in beta testing. To apply, simply visit http://www.profoundlogic.com/atriumovw.rpgsp and fill out the beta request form at the bottom of the page. Visitors can also request more information from this page as well.
For more information about Atrium or the beta test program, please contact:
Profound Logic Software, Inc.
562 Congress Park Drive
Dayton, OH 45459
(937) 439-7925 phone
(877) 224-7768 toll free
sales@profoundlogic.com

About Profound Logic Software, Inc.
Profound Logic Software is a leading provider of application development tools for the iSeries (AS/400) platform. Established in 1999, Profound Logic started creating innovative programming tools that streamline the application development process. Profound Logic has also focused on providing excellent customer service to its clients. Today, Profound Logic Software enjoys thousands of software users in more than 50 different countries. Profound Logic offers its software along with related training, consulting, and support services.