Additionally, Profound Logic has steadily improved Profound.js, our platform for Node.js development on IBM i. Profound.js 4.5 includes the following capabilities:
An Xterm.js feature that supports shells and terminals
Updates to Profound.js modules that include the free Node.js framework, Connector Module, and RPG-to-Node Converter
Refreshed Visual Designer User Interface
Profound Logic's patented Visual Designer has been one of the most innovative tools developed for IBM i application development and modernization. It enables users to drag-and-drop over 150 widgets onto a workspace where a new application interface can be crafted. It gives RPG developers the ability to deploy modern interfaces, even if they aren't experts in mobile development or the use of HTML, CSS, or JSON.
"We're very proud of the updated Visual Designer in Profound version 6," says Roytman. "It has a very clean, modern look with new icons, a streamlined interface, and updated development capabilities, making it a very powerful tool in any IBM i developer's toolbox."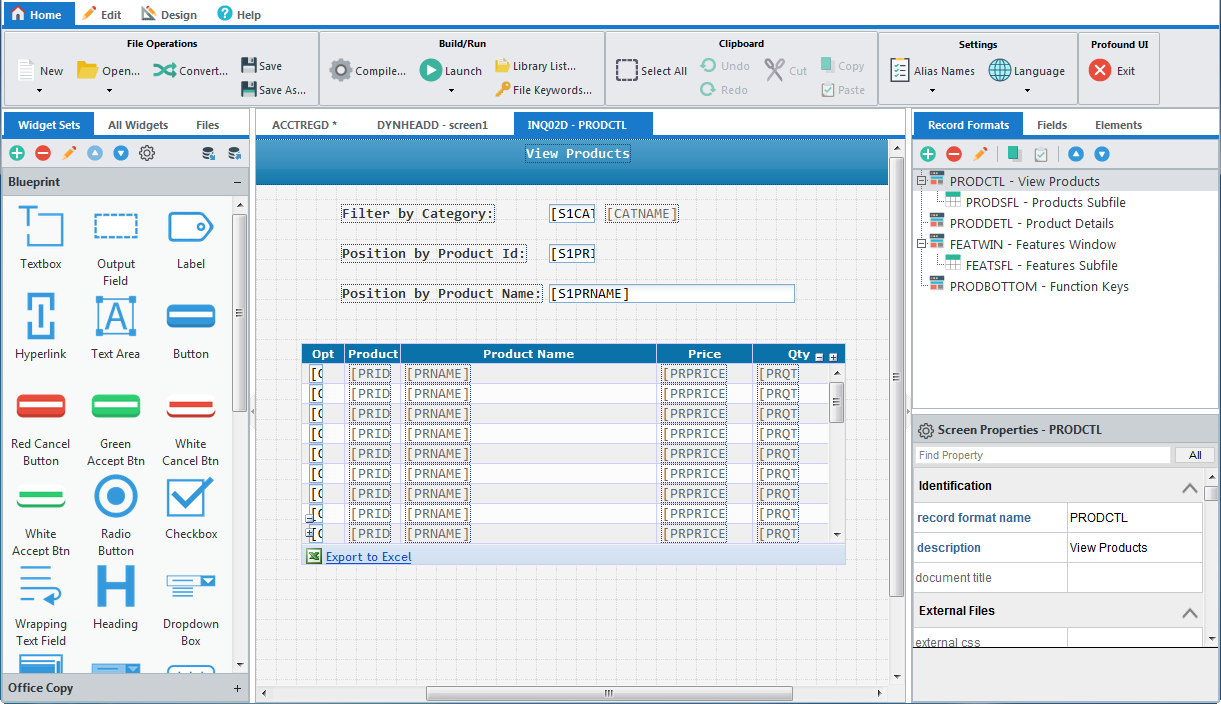 Visual Designer user interface in Profound UI 6
Custom Widget Sets
One of the most exciting new features of Profound UI 6 is the inclusion of new widgets and widget sets in the Visual Designer.
"We've made it easier than ever to make beautiful applications with the Visual Designer by providing sets of widgets designed to work together," explains Roytman. "Even better, customers can easily create their own sets to fit their company's branding."
Customers can easily create new widgets or customize existing widgets, and then add them to their custom widget sets.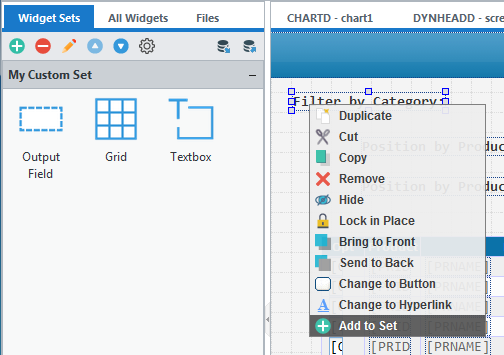 Custom Widget Sets in the Visual Designer
Drag-and-Drop Responsive Design
Today's applications often need to adjust to different sized displays to account for desktop, tablet, and mobile devices. Designing an application to be responsive by hand can be very complex, and often requires a web developer with specialized skills.
With the Visual Designer in Profound UI 6, there is no need for extra coding or relying on developers with specialized skills to make your applications responsive. Our new Responsive Layout widget with its Responsive Layout Editor dialog lets you visually configure your widgets in a point-and-click, drag-and-drop manner to adjust to any screen you can imagine.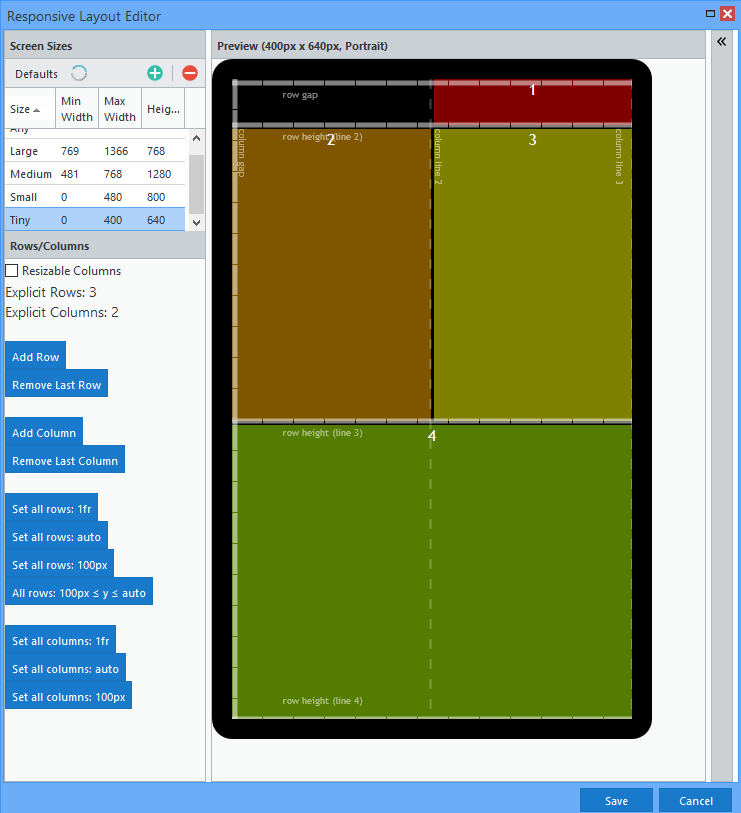 Visual, Drag-and-drop, Responsive Design Widget in the Visual Designer
Multi-Document Editing
The Visual Designer in Profound UI enables you to open multiple documents in tabs, so your displays and IFS files can be open at the same time, making it easier than ever to work on documents and switch between them.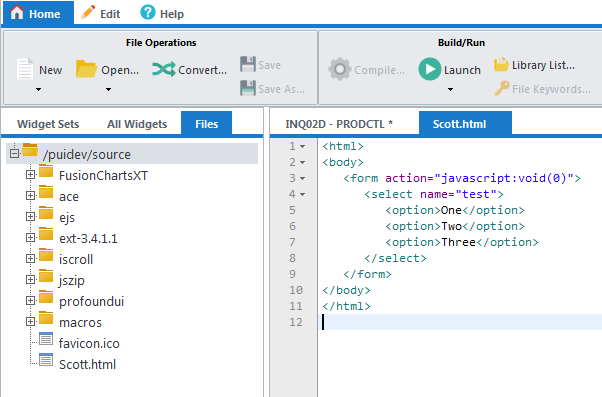 Multiple document tabs open in the Visual Designer
This feature enables you to browse and edit text documents in the IFS, including the HTML, CSS, client-side JavaScript, and Node.js files you use in Profound UI. This operates in a similar manner to the Remote System Explorer on RDi. Now, you can browse and view multiple files, edit files, and design the UI all within a single browser-based tool.
Xterm.js Feature in Profound.js
Developing Open Source on IBM i works best if you use a terminal, such as Xterm. Our new Xterm.js feature lets you open a shell or terminal for your IBM i PASE, Windows, Linux or Mac environment directly from the browser.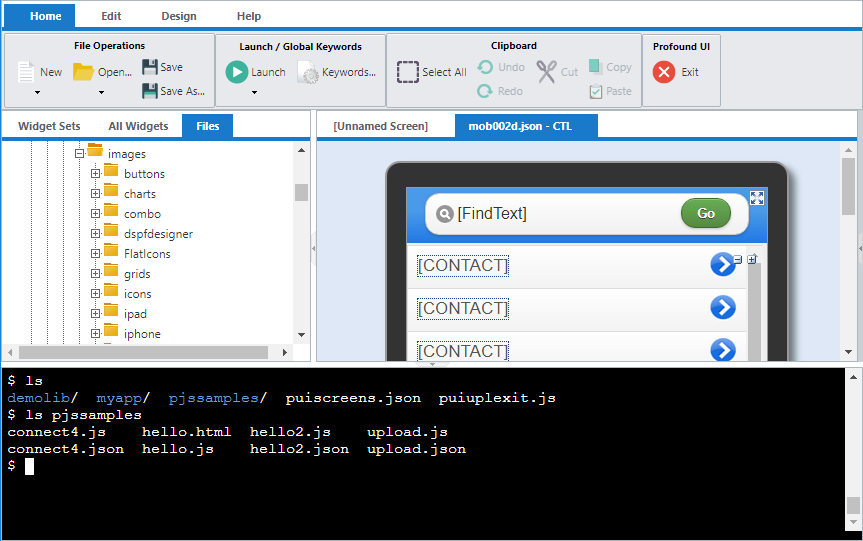 Xterm.js Feature in Profound.js
Since Profound.js is completely integrated with Profound UI, developers can now do all development tasks directly from our browser-based development environment. This includes screen design, business logic development using Node.js, working with git for change management, using npm (Node Package Manager) for integrating external packages, as well as other command line tasks provided by Xterm.
Learn more about Profound UI Version 6 by clicking here.