March, 10, 2010, Dayton, OH - Profound Logic Software announces the release of Genie 4.0, its on-the-fly green-screen modernization solution. In this release, enhancements have been made to the interface to provide a more intuitive and convenient user experience while offering additional capabilities and developer control. Genie 4.0 also offers compatibility with the latest popular browsers, enhances session handling, and adds an array of new integration capabilities.
Improved Screen Design
Since the 2007 release of Genie, Profound Logic has been utilizing user feedback to enhance the solution with an easy to use methodology for modernization and customization of IBM i applications. This includes the notable addition of Genie's visual designer, which allows users to enhance the functionality of web enabled screens with ease.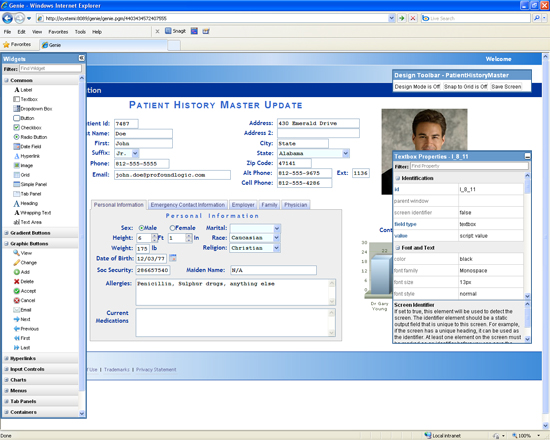 Patient Record Application Being Enhanced with Genie's Improved Visual Designer
The powerful visual designer has undergone major enhancements in this release to allow users to dynamically grab elements or "Widgets" from a sliding toolbar and drop them directly into their application with no additional coding or positioning. With this, the Genie 4.0 designer now provides more than 150 graphical user interface elements intended to enhance and improve your applications; including elements, such as subfile grids, menus, charts, tabs, panels, spinners, and more. These elements are available in a variety of design styles that include features like rounded corners, shadows, and color gradients.
Genie 4.0 also provides a number of new convenient features for editing screen components more efficiently. This includes the ability to copy, cut, and paste any element with the click of a button. Users also have the ability to undo or redo element changes made to screens during a design session. In addition, the element properties window now features an image explorer for finding image files and a script editor for assigning JavaScript events.
New Backend Support and Integration Capabilities
To improve compatibility and session handling, Genie 4.0 includes a variety of new backend features. One such feature provides support for systems that utilize double byte character sets (DBCS), allowing for data stored in languages such as Japanese and Chinese to be displayed on the Web.
Another enhancement included in this release is the automatic disconnect feature, which will detect when a user has closed their browser without logging off the system and properly disconnect the session. The session can automatically be recovered the next time the user logs in.
In addition, Genie 4.0 can now integrate with desktop applications, including Microsoft Office and any other executable programs that run on your computer. With this feature, users can utilize secure applets provided by Genie to call desktop applications from their web-enabled screens, allowing them to perform tasks such as exporting data to Excel and constructing Outlook messages from customer records within an application.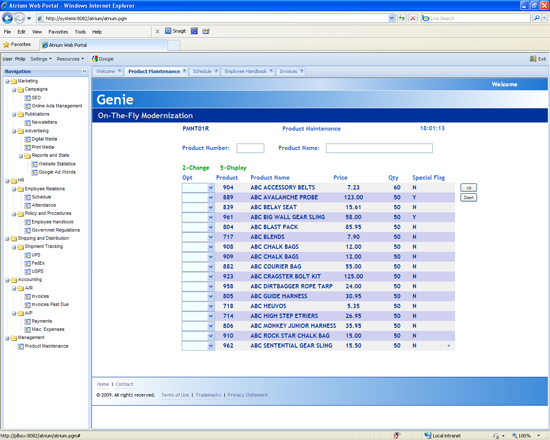 Genie-enabled Product Maintenance Application within Atrium's Dynamic Framework
Users can also interact with other browser-based applications directly from Genie or by using Profound Logic's menu solution, Atrium. This gives developers the ability to create Genie macros visually, allowing them to perform automatic actions and easily navigate through web-enabled screens. With this capability, Genie screens can be presented within the same framework as the organization's other browser applications, providing users with a richer, more integrated experience.
Making Modernization Easy
The new version of Genie comes as part of Profound Logic's mission of providing the IBM i community with comprehensive modernization solutions. Alex Roytman, CEO at Profound Logic, explains, "Since its release in 2007, Genie has been continually enhanced and improved to meet the demands and requirements of developers and programmers in the field. We are always talking with our customers to learn how our tools can better assist them in meeting their objectives in a timely manner. This new version is just another step towards our goal of providing comprehensive solutions that improve the way we modernize and build interactive user interfaces within the IBM i community."
In Atrium, users can create macros that can navigate and perform commands dynamically throughout their modernized applications. A straightforward, step-by-step process allows an administrator to easily create the macros directly within the portal's interface, without having to write a single line of code. Atrium also integrates with other 3rd party applications, websites, and data, regardless of whether these tools are located on the i or other platforms.
A free 30 day trial of Genie 4.0 is available at www.profoundlogic.com/genie.
For more information about Genie 4.0 and its capabilities, please contact:
Profound Logic Software, Inc.
562 Congress Park Dr.
Dayton, OH 45459
(937) 439-7925 phone
(877) 224-7768 toll free
sales@profoundlogic.com

About Profound Logic Software, Inc.
Established in 1999, Profound Logic Software began creating innovative programming tools to streamline the application development process. Today, Profound Logic is a leading provider of application development tools for the IBM i platform. Profound Logic provides its software along with related training and support services to thousands of customers in countries all over the world.