December 13, 2007, Dayton, OH - Profound Logic Software is pleased to announce the upcoming release of iData, a new Web 2.0 database tool for the System i. This new tool provides a fast and intuitive way for users to access and edit their DB2 data directly from any of the major browsers such as Internet Explorer and Mozilla Firefox. iData makes use of AJAX and patent-pending Web 2.0 techniques to give users the ability to add, delete, edit, search, sort, mass update, graph, export, and much more.
Intuitive Interface
Although iData runs in a browser, the interface resembles feature-filled desktop applications. There are many easy-to-use features that allow this browser-based tool to work similar to client-based applications including toolbars, movable tabs, resizable grids, pull-down menus, drag-and-drop capabilities, pop-up dialogs, and animated charts. Users are able to scroll through and work with massive amounts of System i DB2 data with the same ease as working on Microsoft Excel, but without any of the record limitations.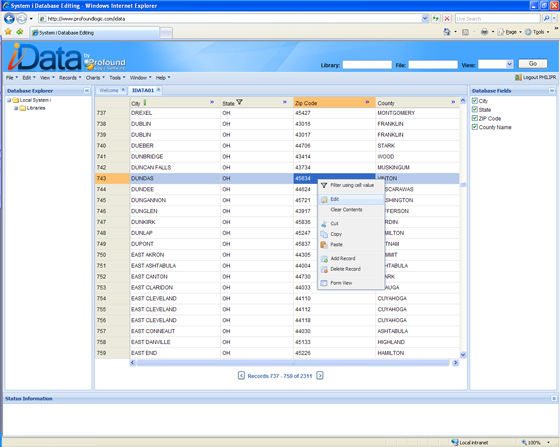 Fast Performance
During the creation of iData, Profound Logic not only focused on creating an intuitive interface, but additionally focused on improving the overall performance and speed for working with System i data. This is done by using only the system's batch processing with no use of interactive resources, and by offloading all user interface tasks to the browser instead of weighing down the server. Additionally, iData employs a patent-pending data fetching technique that will allow a user to scroll through millions of records in real time.
Easy Deployment with Strong Security
Due to the fact that iData is browser-based, users do not need to worry about deployment problems prevalent in most desktop applications. Instead, users can launch iData through any major browser by going to a designated hyperlink. There are no requirements for special plug-ins, Java Applets, or ActiveX controls.
Furthermore, iData ensures that your data is secure by running directly on the System i, and not using an ODBC connection or exposing other critical ports. Additionally, it honors object-level security and allows an administrator to restrict users from accessing or editing specific libraries, files, fields, or even records.
Availability
iData is currently scheduled for release in January of 2008. The prerelease of this new tool has been opened to the public for testing and can be downloaded from the Profound Logic Software website (www.profoundlogic.com).
For additional information about iData, contact:
Profound Logic Software, Inc.
370 Sentinel Oak Drive, Suite 200
Dayton, OH 45458
(937) 439-7925 phone
(877) 224-7768 toll free
sales@profoundlogic.com

About Profound Logic Software, Inc.
Profound Logic Software is a leading provider of application development tools for the iSeries (AS/400) platform. Established in 1999, Profound Logic started creating innovative programming tools that streamline the application development process. Profound Logic has also focused on providing excellent customer service to its clients. Today, Profound Logic Software enjoys thousands of software users in more than 50 different countries. Profound Logic offers its software along with related training, consulting, and support services.