December 1, 2004
- Profound Logic Software today announced the release of an unprecedented RPG-to-Web conversion tool that converts more than 90% of existing green-screen RPG code to CGI Web applications. The new tool is included with the RPGsp Development Environment. It takes existing RPG code and DDS Display File definitions and transforms them into a combination of HTML, ILE RPG, Cascading Style Sheets, and JavaScript. Many simple applications like one-screen inquiries will convert 100% without any manual intervention. The new applications can be launched in a browser immediately after the conversion. Converted applications run as CGI programs and thus do not take up interactive resources and do not require WebSphere.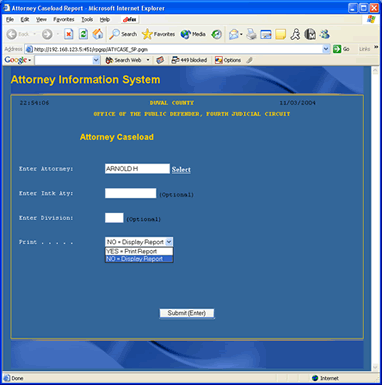 Screenshot of a Converted Application
Furthermore, the resulting applications are completely supported by the RPGsp IDE, a state-of-the-art Development Environment, which has been recognized by industry leaders as the easiest way for RPG developers to create RPG-based Web Applications. With the RPGsp IDE, developers can easily enhance and extend the converted programs by adding new functionality. The RPGsp IDE offers many Wizards for accomplishing tasks such as converting entry fields into dropdowns, connecting fields to popup selection subfiles, adding popup calendars, and more. The new applications are true browser applications and are not constricted to a 24x80 green-screen layout.
Before starting the conversion, developers can also choose the new applicationís theme. A theme is a set of HTML templates that predetermine the look of applications created within RPGsp. Profound Logic supplies more than 40 professional themes with the tool, and allows developers to create their own themes as well.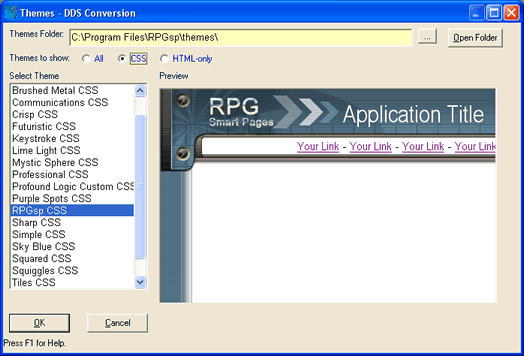 Theme Selection
Because of the stateless nature of Web Applications, some converted applications may require minor adjustments by developers. RPGsp creates a to do list for any remaining tasks that have not been completed by the automatic conversion process. Developers simply follow the to do list to complete the conversion. The average conversion success rate is more than 90%.
"Our RPG-to-Web conversion tool is truly one-of-a-kind. Unlike webfacing tools, RPGsp produces true Web applications that are no longer tied to existing green-screens. The conversion success rate is really high," said Alex Roytman, Chief Architect of Profound Logicís new RPG-to-Web conversion tool.
Profound Logic has tested its conversion tool at a number of customer sites. In each case, customers were able to convert chosen RPG/CL applications with little manual effort.
To complement the new conversion tool, Profound Logic also announced a new RPG-to-Web conversion service. Clients can provide their DDS and RPG code to Profound Logic Software and receive back a converted application. Profound Logic will even convert one simple application for free on a proof of concept basis.
For more information about RPGsp and Profound Logicís RPG-to-Web Conversion offerings, please contact:
Profound Logic Software, Inc.
370 Sentinel Oak Drive, Suite 200
Dayton, OH 45458
(937) 439-7925 phone
(877) 224-7768 toll free
sales@profoundlogic.com
A fully functional trial of RPGsp is available for download at http://www.profoundlogic.com.
About Profound Logic Software, Inc.
Profound Logic Software is a leading provider of application development tools for the iSeries (AS/400) platform. Established in 1999, Profound Logic started creating innovative programming tools that streamline the application development process. Profound Logic has also focused on providing excellent customer service to its clients. Today, Profound Logic Software enjoys thousands of software users in more than 40 different countries. Profound Logic offers its software along with related training, consulting, and support services.
About RPG Smart Pages (RPGsp)
RPGsp is the first and only Rapid Web Development Environment based on native ILE RPG. By integrating RPG business logic in an HTML interface, an RPG developer can produce powerful business applications faster than ever before. RPGsp is analogous to web technologies such as ASP or JSP, apart from the fact that all host logic is written exclusively in RPG, the most natural and efficient language for accessing data on the iSeries. Designed specifically for RPG developers, RPGsp is the perfect tool for creating graphical intranet-based iSeries Applications or for deploying Web Applications.