July 29, 2008 - Profound Logic Software announced today the release of a new administrator interface for their on-the-fly green-screen modernization solution, Genie. This addition, officially know as the Genie Administrator, provides users with an intuitive, graphical interface for configuring and maintaining the settings of all their Genie web-enabled System i and Power Systems applications.
Administration Made Easy
As with Genie itself, the administrator resides entirely on the IBM i, and its interface is fully accessible through any major browser, such as Internet Explorer or Mozilla Firefox. Users only need to navigate their browser to a designated URL and they can log in securely with their existing user profiles.
Once logged into the Genie Administrator, users can easily set up and configure unique environments to run their systems. This may include environments for testing, development, and production. Within each of these environments, users can define specific skin and template properties, such as the headings, footers, fonts, and colors that need to be applied throughout the environment. In addition to that, the administrator provides options for users to copy and delete any of the environments as necessary, as well as promote changes from one environment to another with just a few clicks of the mouse.
The Genie Administrator also provides users with a central location for working with the tool's features. This includes AJAX settings to increase performance on remote connections, the Genie Accelerator to eliminate the 5250 OLTP operation, and designer enablement for access to the visual designer. David Russo, Profound Logic's project manager, explains, "Instead of manually activating various features and settings by coding them into the application, the Genie Administrator allows you to be more productive with an easy-to-use interface to maintain all of your configurations on a global or per-skin basis."
Additional functions that can be preformed with the Genie Administrator involve tasks such as striping alternating subfile rows with specific colors, converting all functions key labels into buttons, and turning menu options into hyperlinks. Users can also maintain certain rendering settings and automatic application improvements. These include applying calendars to date fields, enlarging screen headings, hiding function key names, as well as various other enhancements.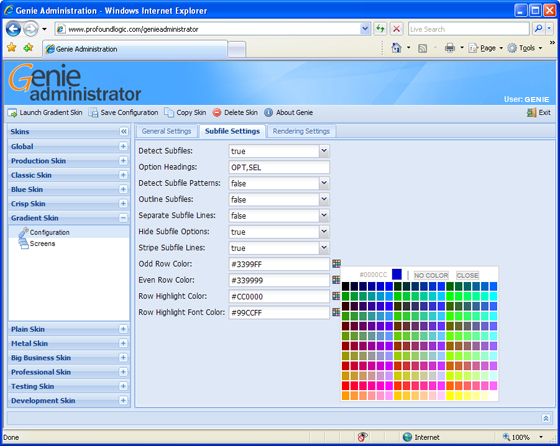 Improved Usability and Flexibility
Overall, the administrator feature comes as part of Profound Logic's larger vision to make Genie intuitive, flexible, and user-friendly for everyone. The typical user can get started with the administrator right away, often without additional training or manuals. The interactive interface even provides context-sensitive tips to guide users and explain how each setting works.
"Our vision is to make Genie very easy to use, without sacrificing the tool's versatility." comments Alex Roytman, CEO of Profound Logic Software, "We spend a lot of time working with customers to find areas in the product that we can optimize for improved usability. We saw an opportunity to enhance Genie's user experience with a centralized interface for managing many aspects of the tool, and that led us to create the Genie Administrator for our users."
Obtaining the Administrator
The Genie Administrator is currently available for trial with the current release of Genie on Profound Logic's website (www.profoundlogic.com). It is automatically installed along with Genie, and places a URL shortcut on the user's desktop for easy access.
For additional information about Genie and the Genie Administrator, contact:
Profound Logic Software, Inc.
562 Congress Park Drive
Dayton, OH 45459
(937) 439-7925 phone
(877) 224-7768 toll free
sales@profoundlogic.com

About Profound Logic Software, Inc.
Profound Logic Software is a leading provider of application development tools for the iSeries (AS/400) platform. Established in 1999, Profound Logic started creating innovative programming tools that streamline the application development process. Profound Logic has also focused on providing excellent customer service to its clients. Today, Profound Logic Software enjoys thousands of software users in more than 50 different countries. Profound Logic offers its software along with related training, consulting, and support services.