May 3, 2010, Dayton, OH - Profound Logic announces a number of notable enhancements to Profound UI, the new native graphical user interface platform for the IBM i and the first vendor-provided handler for RPG Open Access.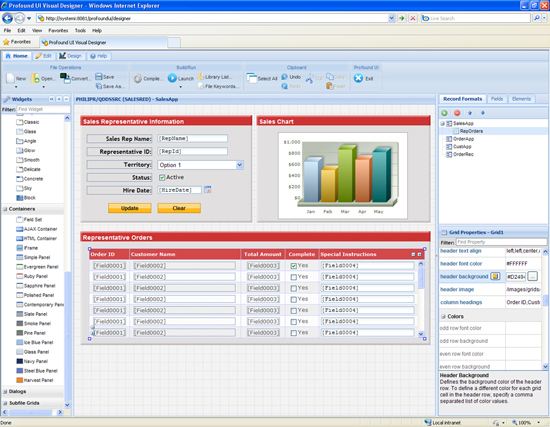 Profound UI's Visual Designer in Action
These enhancements include the ability to utilize RPG Open Access functionality on prior operating system releases V5R4 and V5R3, the integration of RPG Open Access enabled applications with 5250 web-enabled screens, and a menu and deployment framework.
Profound Logic also released a beta version of the DDS Conversion module for Profound UI, as well as launched a new micro site, where users can learn about Profound UI and try the technology for themselves.
Profound UI RPG Preprocessor
IBM recently introduced RPG Open Access, a key feature that makes it possible for native RPG operations to communicate directly with Web browsers, mobile phones, and other devices through third-party handlers. The feature will greatly benefit the IBM i community; however, one shortcoming of the solution is that it is only available on systems with i 6.1 or higher.
Many IBM i shops are still in the process of upgrading to 6.1 and continue to utilize earlier operating systems such as V5R4 and V5R3. Profound Logic Software now offers a solution with its RPG Preprocessor module to those customers who haven't upgraded their OS, but want to start utilizing RPG Open Access.
Similar to Open Access, the RPG Preprocessor supports all screen-related operations in RPG. This is accomplished by automatically inserting direct calls to Profound UI on V5R3 or V5R4. There are two ways to utilize the preprocessor. Users can either make use of alternate compile commands provided by Profound UI, or install exit points that invoke the preprocessor automatically when the standard system compile commands are used. The preprocessor will create a temporary copy of the original source code, replace display file operations with alternate code that will package the necessary RPG data and pass it to the Handler, and then call the RPG compiler on the source to finish the job. The preprocessor also makes it easy to obtain a trial copy of Profound UI and RPG Open Access functionality.
The intent of this feature is to make it easy for customers to start adopting Rational Open Access for RPG. Profound Logic highly recommends that customers upgrade to 6.1 or higher and obtain RPG Open Access eventually. The preprocessor is only offered on those releases where IBM has not made Open Access available, or for trialing the solution. The preprocessor pricing is similar to that of IBM's RPG Open Access, charged as an annual fee. However, Profound Logic will provide a credit to customers that eventually upgrade to 6.1 or higher and obtain Open Access, making it so that customers do not necessarily have to pay twice for the functionality.
Profound UI Integration and Deployment
The Profound UI Platform has now been integrated with Profound Logic's capabilities to Web enable 5250 screens on-the-fly, the Genie module, and the company's menu and deployment framework, the Atrium module.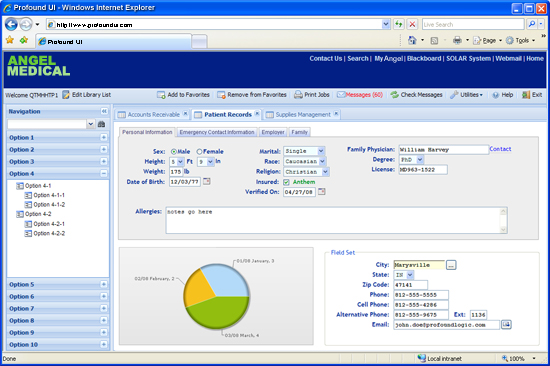 An Application Using Profound UI's Atrium Module
While these have been separate offerings in the past, they are now integrated into a single environment running out of the same IBM i library and web server instance. This allows each of the platform's modules to work together seamlessly without needing additional configuration or separate updates.
DDS Conversion (Beta Preview)
Another module provided by Profound Logic is an automated green-screen DDS to a rich user interface conversion process. This capability, available as a beta preview, allows developers for the first time to truly convert green-screen displays to a Rich UI without screen-scraping the 5250 output or significantly modifying the RPG code. The Profound UI platform was architected in a way that makes this type of conversion possible and accurate. With the conversion process, RPG programs can remain identical, other than adding the HANDLER keyword needed to enable RPG Open Access. Programs are then simply recompiled and all 5250 ties can be completely eliminated. Profound UI provides the capability for one set of programs to run both green-screen and Rich UI applications, thus eliminating double maintenance. The current process converts one display file at a time. However, Profound Logic offers a mass conversion service for those customers that have a large number of screens to convert.
Profound UI Micro Site Available
Profound Logic has received a considerable amount of interest and feedback from the IBM i community with the release of their Profound UI solution.
"We were lucky enough to see a demonstration of Profound UI," says Jon Paris and Susan Gartner at Partner 400. "To say that we are impressed is to put it mildly."
In response, a new micro site has been made available to provide details on the product, as well as offer additional resources for learning how the solution works.
Website visitors are encouraged to register for a Profound UI account. Registration is completely free and will provide access to educational screen casts, solution documentation, sample programs, the community forum and a live demo area.
The new website's live demo area will give interested parties the opportunity to use Profound UI's Visual Designer without having to download anything. A trial copy of Profound UI, accompanied by a getting started guide is also available to those who have registered for a free account.
"I am overwhelmed and flattered by the outstanding response to Profound UI," says Alex Roytman, CEO at Profound Logic. "So many people in the community are congratulating us for delivering what they say is the most significant enhancement to the platform in the entire history of the AS/400."
All of this is now available on www.ProfoundUI.com. Profound Logic will continually update this space with additional resources so be sure to check back often.
Customers are also encouraged to subscribe to Profound's bi-weekly newsletter, iModernize, at www.profoundloigc.com to be notified of any new updates, including company events and product enhancements.
For more information on Profound UI and its capabilities, please contact:
Profound Logic Software, Inc.
562 Congress Park Dr.
Dayton, OH 45459
(937) 439-7925 phone
(877) 224-7768 toll free
sales@profoundlogic.com

About Profound Logic Software, Inc.
Profound Logic Software, an advanced IBM business partner, has a long history of innovation on the IBM i. The company is well known for its developer productivity and modernization tools: RPG-Alive, RPGsp, Genie, Atrium, and iData.
Profound Logic Software was the first to introduce a hybrid compiler for RPG and HTML, allowing IBM i shops to reuse existing skills and code for building Web applications. Profound Logic also launched the first Visual Debugger for RPG-based Web Development. Over the years, the team at Profound Logic developed a variety of green-screen conversion and modernization technologies, and continues to refine these technologies to this day.
At a time when AJAX development was primarily done from scratch, Profound Logic created a cross-browser AJAX library for the IBM i. The library was later extended into the first browser-based Visual Designer for web-enabling RPG applications.
This type of innovation has allowed Profound Logic to flourish and gain prominent customers such as Nintendo, Disney, Nike, Pepsi, FedEx, Volvo, Sony, General Electric, Warner Brothers, and many more. Over the past 10 years, the company has serviced thousands of customers and facilitated the modernization of many millions of lines of legacy RPG code.