May 16, 2016 - New Orleans, LA - (www.profoundlogic.com) Profound Logic, a leader in enterprise IBM i modernization, announced plans to offe support for Node.js and COBOL at the COMMON Annual Conference and Expo. Profound Logic also plans to expand support for businesses that need an end-to-end, enterprise modernization engagement, and customers managing and deploying Profound UI implementations.
"We have an amazing, dedicated product team," says Profound Logic CEO, Alex Roytman. "We incorporated close to 4,000 enhancements into the product since its launch. I imagine this is different compared to many other vendors in the industry. I wouldn't be surprised if the average is only a handful of enhancements per year for the typical vendor in the IBM i space."
Breathe New Life into IBM i Businesses with Node.js
A recent study by Profound Logic found that the two greatest challenges faced by businesses running on IBM i are outdated green screen interfaces and the difficulty of finding new developers to replace an aging RPG talent pool. While RPG is a practical business language, it is not taught to younger generations of programmers as often as newer languages, like JavaScript. A plausible solution for businesses looking to modernize their IBM i interfaces and add new development talent to their ranks is Node.js.
Node.js is an open source development environment that is powered by JavaScript and supported on IBM i. JavaScript and Node.js have quickly become the most widely adopted programming platforms, outpacing Java in popularity. Profound Logic is pleased to announce that we will support Node.js on IBM i with the forthcoming release of the Profound.js development framework.
The Profound.js framework will give businesses the ability to:
Seamlessly integrate Node.js with existing RPG applications or any other applications running on IBM i
Utilize the Profound UI Visual Designer for Node.js development
Easily convert existing RPG programs to Node.js with an automated solution that eliminates the challenges encountered when re-writing RPG to another language manually
Hire developers from a larger talent pool, without the challenges of training in RPG
Like the RPG solutions offered by Profound Logic, the Profound.js approach is agile and iterative, which enables businesses to take a measured and highly customizable approach to modernization. Businesses can choose to modernize their applications into either free-format RPG or Node.js, and their green-screen display files into JSON Rich Displays.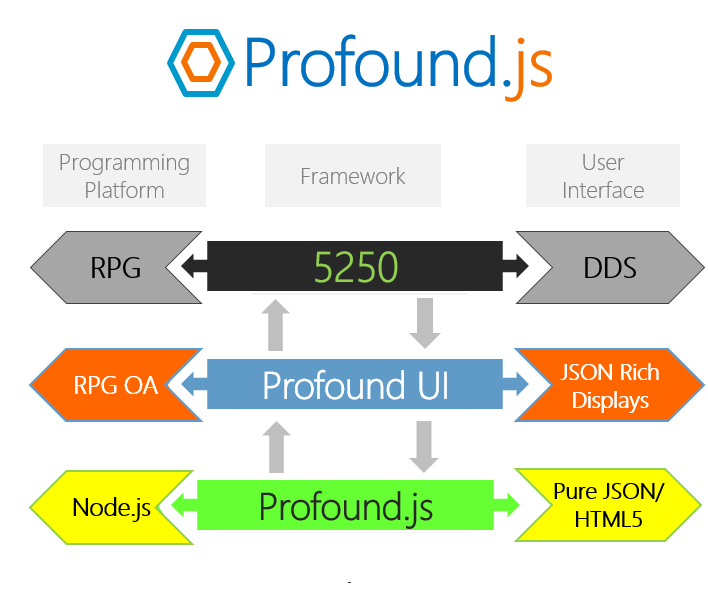 Since Node.js is open source, businesses can use it to create IBM i applications that easily integrate with exciting new technologies, like IBM Bluemix/Open Cloud Architecture and IBM Watson Developer API.
"Node.js is a true game-changer for IBM i development," states Roytman. "With Profound.js, businesses will be able to take advantage of all the benefits of Node, and extend the life of their IBM i far into the future!"
A New Outlook for COBOL Interfaces
While many developers and businesses may discount the importance of COBOL, the fact is the language powers roughly 80% of the world's business transactions. Despite this, there have not been any meaningful solutions in the past to modernize COBOL application interfaces.
Now, Profound Logic is giving businesses the ability to generate rich interfaces for COBOL applications.
A Rich-UI application modernized with the Profound UI Open Access Handler
"With our COBOL pre-processor, businesses can extend the benefits of Rich UI and Open Access to their COBOL applications," says Roytman. "By simply using an alternate 'compile' command and our Open Access Handler, these businesses can now easily build the same modern, web and mobile graphical interfaces that they can create for their RPG applications."
Several Profound Logic customers are currently beta testing the COBOL pre-processor. To sign up for the beta program, contact sales@profoundlogic.com.
Work with Profound UI Instances Tool
Customers managing and deploying Profound UI implementations are going to be happy to find out about a new command line interface tool for managing active instances and sessions. The new tool, built by Scott Klement, is called Work with Profound UI instances and is available at no additional cost to all existing customers of Profound UI.
Traditionally, this type of information was managed using IBM's Work with Active Jobs command. However, this command, while good for managing green-screen sessions, was not ideal for managing Web and mobile interface sessions, which launch different types of jobs for various tasks. The tool is able to manage, organize, and differentiate between the different HTTP instances, 5250 scraped interactive jobs, application jobs, controller jobs, and stateless jobs. Doing all this with traditional commands, like Work with Active Jobs, requires a lot more effort compared to the new Work with Instance tool now offered with Profound UI.
A Focus on the IBM i Enterprise
The new Profound Logic COBOL and Node.js offerings underscore Profound Logic's commitment to IBM i businesses that are struggling to be more modern in a rapidly changing world.
Many companies that run on IBM i believe that, in order to become modern, they either need to re-write their applications into an unrelated language, like Java or .NET, or purchase a package solution to replace their home-grown or customized application. Statistics show that these types of efforts have a high degree of failure. There are many challenges with these options, including: disruptions to end users and customers while a portion of the business still runs on IBM i; packages can't take into account all the custom-tailored functionality that have been added to an application over the years; and vendors who don't understand your business or the IBM i platform.
"I've personally worked with dozens of businesses that have wasted millions of dollars and many years of development on failed efforts to rewrite or replace an IBM i application," says Roytman.
The best solution for these businesses is Enterprise Modernization. Profound Logic has partnered with ARCAD Software to offer a solution that modernizes all aspects of the business on IBM i: The interface, application code, database structure, and development processes. This approach reduces the risk of failure, the total project cost, and the overall impact of the project on the business and its customers.
"Our agile, low-impact approach to Enterprise Modernization eliminates many of the problems you find with other 'modernization' options," Roytman says. "With Profound Logic and ARCAD, you can modernize only the parts of the business that need to be updated, while remaining on your existing IBM i platform."
Businesses that are interested in receiving updates about Profound Logic announcements can do so by contacting info@profoundlogic.com.
About Profound Logic
At Profound Logic, our mission is to provide the most innovative and native solutions for IBM i application development and modernization. For over 15 years, we've helped thousands of customers around the world eliminate green screens, transform legacy interfaces, develop modern desktop and mobile applications, and optimize enterprises that use IBM i. Our developers are true IBM i experts, knowledgeable in modern languages that include RPG, PHP, HTML5, and Node.js.
We have offices in Ohio, California, and Mississippi, and partners located around the world. Learn more at www.profoundlogic.com or contact us at 877-224-7768.
###
Media Contact:
Amanda Blackburn
Profound Logic Software
ablackburn(at)profoundlogic.com