Dayton, OH July 31, 2006 - Profound Logic Software announces the addition of a CL to Web conversion tool to its RPGsp software. Most legacy i5 applications are a combination of RPG and CL programs. While RPG programs perform the bulk of screen-processing, many screens are also presented to end-users via CL programs. These screens tend to be simple prompts and menus, as CL is a very simplistic language.
RPGsp's Green-Screen to Web Conversion Tool, which converts RPG programs to multi-purpose CGI applications, can now be used to convert CL programs as well. Any interactive CL program can be converted to a Web application with the click of a button. The CL program will maintain its functionality, and will have the ability to function as either an interactive green-screen CL program or a Web program, from one compiled object.
The RPGsp environment offers an array of tools including snippets, an HTML designer, and a split-view editor to enhance the converted application beyond its original capabilities. A typical enhancement for a CL menu might be to make the options clickable. A CL date range prompter program can be enhanced to have pop-up calendars when executed in a browser environment.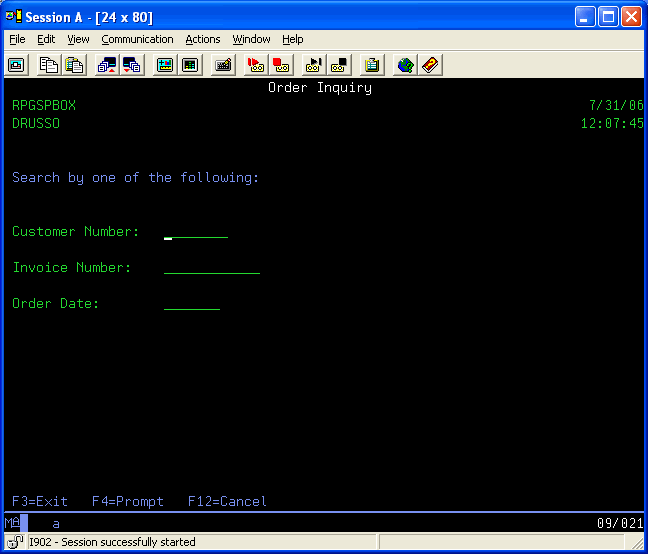 A CL program using a display file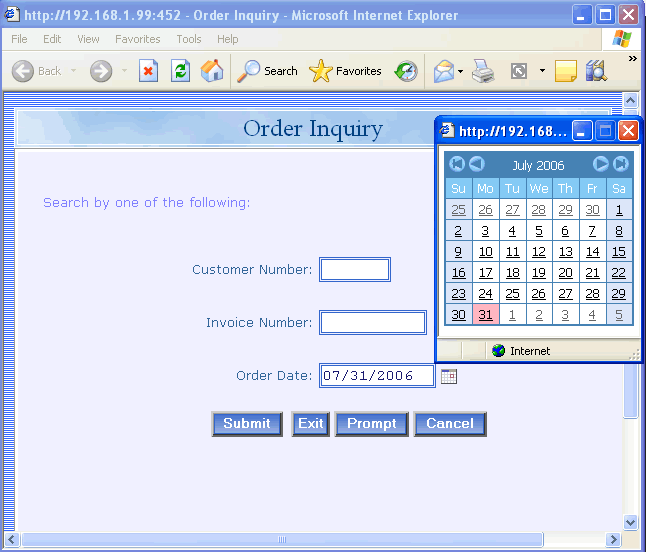 The same CL program after the conversion. The date field is now a pop-up calendar.
For additional information about Profound Logic's RPGsp Environment and the CL to Web conversion process, please contact:
Profound Logic Software, Inc.
370 Sentinel Oak Drive, Suite 200
Dayton, OH 45458
(937) 439-7925 phone
(877) 224-7768 toll free
sales@profoundlogic.com

A fully functional trial of RPG Smart Pages (RPGsp) can be downloaded at: http://www.rpgsp.com/download.html.
About Profound Logic Software, Inc.
Profound Logic Software is a leading provider of application development tools for the iSeries (AS/400) platform. Established in 1999, Profound Logic started creating innovative programming tools that streamline the application development process. Profound Logic has also focused on providing excellent customer service to its clients. Today, Profound Logic Software enjoys thousands of software users in more than 50 different countries. Profound Logic offers its software along with related training, consulting, and support services.
About RPG Smart Pages (RPGsp)
RPGsp (http://www.RPGsp.com) is the first Rapid Web Development Environment based on native ILE RPG. By integrating RPG business logic in an HTML interface, an RPG developer can produce powerful business applications faster than ever before. RPGsp is analogous to web technologies such as ASP or JSP, apart from the fact that all host logic is written exclusively in RPG, the most natural and efficient language for accessing data on the iSeries. Designed specifically for RPG developers, RPGsp is the perfect tool for creating graphical intranet-based iSeries Applications or for deploying Web Applications.