April 11, 2008, Dayton, OH - Once again, Profound Logic Software attended this year's COMMON 2008 Annual Meeting and Exposition. Since 2003, the Profound Logic team has been participating in this tradition to show the System i community all of the company's new and improved products and services.
For this year's exposition, Profound Logic introduced iData, the newest product for browser-based database editing, by giving away free copies of the tool to all the attendees. In addition, attendees were encouraged to stop by the booth with a special drawing for a chance to win a free laptop.
"We want everyone to see how fast and easy it is to work with System i data, so we gave it out with no strings attached and no expiration dates," commented Alex Roytman, CEO of Profound Logic Software.
By the end of the event, Profound Logic had given out hundreds of copies of iData, and Mr. Brian Dunaway from Greenwood, SC became the lucky winner of the laptop. Overall, the whole team stated that this year's COMMON had been a great success, and they all looked forward to another great turnout for next year's meeting in Reno.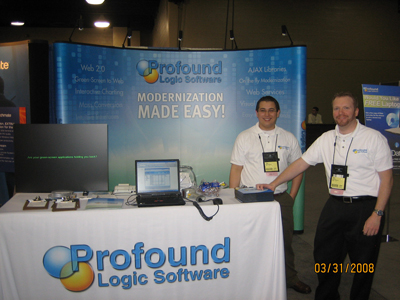 Profound Logic Software at COMMON 2008 in Nashville, TN
For additional information about iData and the rest of Profound Logic's modernization tools, contact:
Profound Logic Software, Inc.
562 Congress Park Drive
Dayton, OH 45459
(937) 439-7925 phone
(877) 224-7768 toll free
sales@profoundlogic.com

About Profound Logic Software, Inc.
Profound Logic Software is a leading provider of application development tools for the iSeries (AS/400) platform. Established in 1999, Profound Logic started creating innovative programming tools that streamline the application development process. Profound Logic has also focused on providing excellent customer service to its clients. Today, Profound Logic Software enjoys thousands of software users in more than 50 different countries. Profound Logic offers its software along with related training, consulting, and support services.