Profound Logic has released Profound UI 4.1.5, which includes a number of features that make building mobile applications easier, and provides more options for customization and native application development.
The new designer canvas for tablets and mobile phones allows developers to preview the application without ever leaving design mode. The canvas size can be controlled by the developer and device rotation can be simulated right within the Profound UI Visual Designer.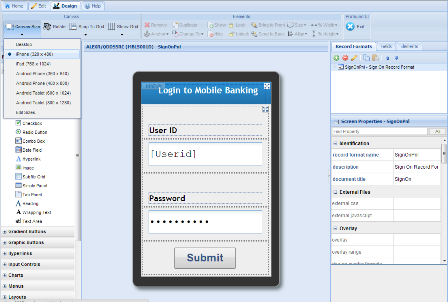 With this release, Profound Logic also ensures users can take advantage of native mobile capabilities, such as the use of the camera, the accelerometer, and local device storage. This was accomplished through tight integration with PhoneGap, a popular open source framework for packaging HTML5 apps as native mobile applications. Now, Profound UI supports all major mobile devices natively. Profound UI ships prepackaged PhoneGap templates for the Android, iOS, and Windows Mobile operating systems. The prepackaged templates can be pointed to a customer's IBM i application built with Profound UI just by setting the initial RPG program or PHP script to call.
With the new PhoneGap integration, Profound UI now offers a number of mobile-specific API and features to take advantage of native device capabilities, such as:
Taking photos and uploading them to the IBM i server while connecting the photos to records in a DB2 database
Watching the accelerometer to test for events, such as the user shaking the device; the events are then tied directly to RPG code
Barcode scanning capabilities
Capturing and uploading signatures
Handling special device buttons, such as tying the Android's physical back or context menu buttons on the device to an RPG response variable or PHP post data
Screen transition animations
Profound Logic also added new mobile-specific widgets and mobile capabilities to some of the existing Profound UI widgets. Examples of these include:
New mobile on/off switch widget
New Signature pad widget
Swipe scrolling for grids
Google Maps widget with pinch-to-zoom functionality
New layout widgets to handle device rotation
Drag and drop touch events for most widgets
With the features and functionality now available in Profound UI, RPG developers can go beyond simply mobile-enabling green screens and easily create useful, flexible mobile solutions for the business.
For a complete list of features in this and other versions of Profound UI, click here