Irvine, CA - April 20, 2015 - A new mobile application that gives instant access to conference information will be available to the attendees of this year's COMMON Annual Meeting and Exposition.
The conference, which will be held this year at the Disneyland Resort in Anaheim, CA, on April 26-29, is the largest IBM i user group meeting of its kind. With over 400 sessions, open labs and workshops, and more than 100 presenters speaking on topics that range from modernization to security, it can be challenging to connect the conference-goers with the content they are looking for.
"We're proud of the enormous amount of educational options available at the Annual Meeting, and in this mobile world, our attendees want access to that information instantly so that they can get the most out of their conference experience," states Manzoor Siddiqui, COMMON's Interim Executive Director. "The COMMON mobile app meets the attendees' needs by literally putting the conference information at their fingertips, and goes with them everywhere throughout the event."
COMMON partnered with Profound Logic Software to create the mobile application named "COMMON UG". The development team, comprised of David Russo and Antonio Ruballos, used the Profound UI Suite's Visual Designer and integrated mobile application tools, along with PhoneGap, to create the application. This is the same method Profound Logic customers can use to quickly and easily create native mobile interfaces for their IBM i applications.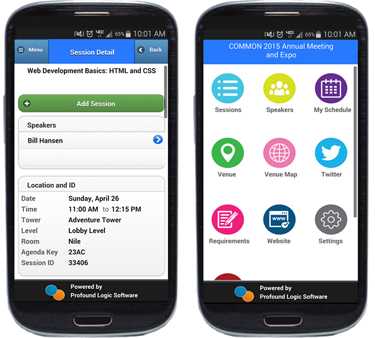 The COMMON UG Mobile Application puts information about the conference sessions, schedules, and venue at the attendees' fingertips.
The COMMON application will give users the abilities to:
Build a personal conference schedule
Browse the Session and Speakers Guides
Search by keyword, speaker name, day, or course of study
Find maps of the venue and surrounding area
Follow COMMON's Twitter feed for event announcements
"We would like to thank the folks at COMMON for giving us the opportunity to partner with them on this application - especially COMMON's IT Manager, Fred Pritchard, for his hard work on the project," says Profound Logic Senior Developer David Russo. "We look forward to an ongoing partnership with COMMON and continuous enhancements to the mobile application over many events to come."
COMMON event attendees can download the COMMON UG mobile application at www.common.org/onsite and from the iTunes and Google Play stores.
About COMMON - A Users Group
COMMON - A Users Group is the largest independent user group community of IT professionals and IBM technology users. Representing a membership of over 20,000 IT professionals, COMMON is an integral part of the Business Computing community with leading initiatives in education, networking, and certification. The membership organization is comprised of everyday users, industry experts, vendors, renowned speakers, and members of the academic community. COMMON has been serving its membership for 55 years with mission of enhancing members' careers.
About Profound Logic Software
At Profound Logic Software, our mission is to provide innovative, comprehensive and native solutions for IBM i application development and modernization. For over 15 years, we have supported the modernization of many million lines of legacy RPG code for thousands of customers worldwide.
Our focus on innovation resulted in a patent for the first browser-based visual designer for RPG modernization and the first handler for RPG Open Access, the feature that makes truly modern RPG applications possible. We employ the most talented developers in the industry to meet the ever-changing modernization needs of businesses running on the IBM i.
Learn more at www.profoundlogic.com.
###
Media Contacts:
Manzoor Siddiqui
COMMON - A Users Group
312-279-0253
msiddiqui(at)common.org
Amanda Blackburn
Profound Logic Software
937-439-7925 x720
ablackburn(at)profoundlogic.com